Time
| | |
| --- | --- |
| Doors | 7:00pm |
| Showtime | 8:00pm |
| Kitchen | 6:00pm |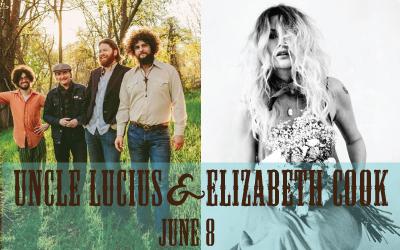 Most bands celebrate a long-awaited record deal. Uncle Lucius saved the champagne for when they got out of theirs. Over some warm Lone Star, the road-weary band bid farewell to Nashville machinations, though the way ahead was entirely uncharted. Only the perils of independence were apparent. "We really didn't have a back-up plan. Or any plan at all, for that matter," admits Jonny "Keys" Grossman.
Fortunately, this band has plenty of practice straying from the simpler path. For a decade, Uncle Lucius had built its fan base the hard way, through relentless touring and restless searching. With no other option, they called on their die-hards for help. Hundreds of believers pledged tens of thousands of hard-earned dollars. Both humbled and exhilarated, the band hit the studio, eager to justify their fans' love with the labor of their hearts and souls.
The resulting LP, The Light, is the statement their fans have waited for, with its songs of seeking and questioning, of reaching out to others, of excavating the hidden strength within. After years spent spreading their message across Texas, here at last is the vehicle that can take them to the national level.
Opening the album, the title track begins deceptively, with singer Kevin Galloway alone in a playful groove, until the band crashes in like a hammer, turning a folky shuffle into a barrelhouse stomper. At its heart his message is self-determination, escaping the traps of learned behaviors, or studied reactions, in favor of reawakening the power within us. Obscured though it may be, there remains a light within all of us, just waiting to be rediscovered. "Age of Reason," written by founding bassist Hal Vorpahl, conceals a call to arms within the Stax Records-influenced vibe.
Probing painful truths should come as no surprise to long-time UL fans. From their debut effort, Something They Ain't, Uncle Lucius has specialized in unvarnished reflections, whether in the thought-provoking "Million Ways" or the captivating "Keep the Wolves Away," which propelled their outsider's angle into the mainstream of Texas radio in 2013.
Much about UL sets them apart. Five songwriters combining forces is neither common nor easy, but what each individual loses in pride the band more than gains in power. The song itself matters more than who wrote it, more than the genre to which it belongs. "It's not about trying to write a certain kind of song," says Galloway, "it's about harvesting whatever song comes."
Despite that organic method, The Light's songs share themes of travel, movement, and quests without destinations. Guitarist Mike Carpenter turned images of a two-lane highway in West Texas's Big Bend into a kind of prayer and his "Wheel's in Motion" explores those situations when we concede control over our own actions, when we hide our powers of reason behind the blinders of duty and responsibility. That thread continues in "Don't Own the Right," co-written by Galloway and Carpenter, which reminds us not to judge others.
Galloway's "Taking in the View" sprawls like a Western epic, where he's joined by The Mastersons' Eleanor Whitmore on strings, and the song crescendos into a mad cacophony right out of the Book of Revelation. The song is a prime example of what Uncle Lucius does best, couching thought-provoking topics in grabby tunes that allow for both casual listening and deeper contemplation.
The Light places the band in unfamiliar sonic territory, and much credit belongs to producer George Reiff (Shinyribs, Ray Wylie Hubbard, the Band of Heathens) for testing their limits. Every member influences every other, and that combined filter comes close to defining what Uncle Lucius is. A band Carpenter calls "Southern rock for the thinking man" doesn't shy away from outside-the-box influences. Galloway quotes philosopher Jiddu Krishnamurti and mythologist Joseph Campbell in the same breath as Willie Nelson, while Greco evokes The Band and bebop drummer Max Roach with equal aplomb. Each member recognizes that authenticity requires a constant seeking, that at no time may an artist arrive at who they truly are. Instead they must look always beyond their present confines, in order to remain unsettled enough to create. Certainly there's risk involved when a band decides to go its own way. Freedom carries with it the weight of responsibility after all. That Uncle Lucius seems destined for a broader audience should come as no surprise, for music that comes from the heart and speaks to the soul.
Elizabeth Cook didn't quite know what she was doing. But she knew there were songs, and they had to get out. Six even years since her critically acclaimed Welder, as well as much personal tumult, there were songs that needed to be born. "If anything, (Exodus) is a pledge of allegiance for the bad girls and the Homecoming Queens who got caught in a scandal. It's a bill of rights, and a testimony for those good girls who got away with more than they should have." From Dexter Green's (also the album's producer) opening electric guitar, equal parts foreboding and fraught, "Exodus of Venus" hurls a churlish witness to erotic upheaval and the drives that subsume our best notions.
For fans of the Florida-born'n'raised Cook, a Grand Ole Opry regular, SiriusXM Outlaw Country hostess and David Letterman favorite, Exodus of Venus will be something of a shock. If she maintains the tang of her drawl, what emerges – beyond Cook's always vibrant and vivid sense of detail – is a song cycle soaked in turpentine, musk and honey.
From the sweltering tumble of B-3 on the funky, shuffling "Methadone Blues" to the elegiac dignity of "Tabitha Tuder's Mama" and the Velvet Underground on fire bristle of "Brokedown in London on the M25," Cook's shouldering a deeper passion for the state of living today – and the crashing into the wall reality we all go through. If in the past Cook relied on wit and a certain dogpatch charm, Venus commands a raw knuckled truth that's even more searing. "There hasn't been a lot to laugh about," confesses the effervescent songwriter who once penned "It Takes Balls To Be A Woman" with equal parts Dolly Parton pluck and Loretta Lynn brio. "Things have been heavy and dark, and I feel really different. I aspire to be more than clever or dark or poignant, but to be honest. I want that to supersede everything.
Her resilience rises like steam from the narcotic "Dyin'," as Cook professes her by any means necessary strength. Flowing from there to the attenuated starkly haunted "Evacuation," a slow build of defiance that eschews the easy for holding onto one's roots – and casting a parallel with New Orleans' own spirit that mines a deep desire to live, die and celebrate where one's essence lies.
"During the years when family was dying and houses were burning down and I was in divorce court and David Letterman was calling and doing shows with Anthony Bourdain, the whiplash was almost too much," Cook admits. "To keep up with all this great stuff, while I'd been sheltered for such a long time from tragedy, it transforms you. It really does."
Cook emerged a tougher, wiser woman. If her years as a rough stock Minnie Pearl, part comedienne, part chronicler of life beyond the urban hipeoisie, had cast her first glass of champagne ebullience as a sparkling presence of hillbilly authenticity, Exodus of Venus suggests a woman tapping into the force of her true power. Frank, stumbling, angry, exhausted, triumphant, she owns the ragged edges, the torn seams and worn thin places.
A kid singer in her late-in-life parents' country music aspirations, she learned bar life early – and getting by with a pretty smile and a good line. Her mother – diagnosed with uterine cancer at 42 while pregnant with Elizabeth – and "raging alcoholic Daddy" had big plans. After years of getting by on charm, with dysfunction part of the family's functionality, it all came apart in Cook's hands. But in the wreckage of death and divorce, Cook found liberation and emancipation. "I'm not trying to be the good girl anymore, and that brought some joy to all of it. I almost care more – or different," she explains. "These songs are more poignant. They're honest, and all about compassion or grace. For myself, and from a place of experience. Not that any of it was wrong, but I look back and have pride for all that happened and what I've survived."
"Living on the shady side, there's a comfort level I have in that kind of environment," Cook offers. "That's where the reckless or the brave both say, 'Yeah, why not?' I'm doing what I'm supposed to do – (for me, writing these songs) is a necessity. It's the only power, the only tool, the only weapon I have. People were tweeting me, 'Are you keeping it country?' And the truth is: No, I'm keeping it real. Not to a genre, but to what these songs are. It's an imperfect balancing act: a lesson in compassion and grace and tolerance. You know, all these songs are either requiring it or exhibiting it."
All Ages