Time
| | |
| --- | --- |
| Doors | 3:00pm |
| Showtime | 3:30pm |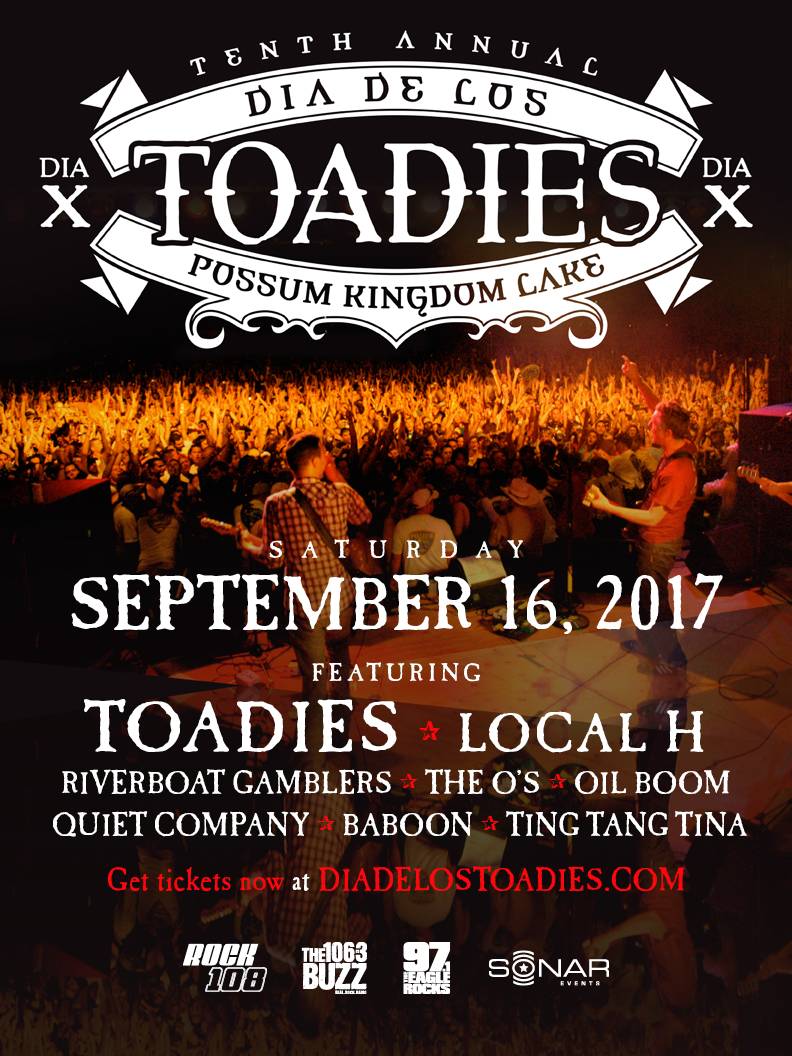 Dia De Los Toadies returns to Possum Hollow at Possum Kingdom Lake on Saturday, September 16th for its 10TH annual fest! This year will feature 2 stages and 8 bands including Local H, and a headlining set by the Toadies - all on the shores of Possum Kingdom Lake.
"We are so excited to finally return to Possum Kingdom for this year's very special 10th annual Dia de los Toadies festival. Our team has been working hard on this celebration for a long time! We wanted to make something really cool this year, so we have created a lineup made solely of past Dia festival performers, with one very special exception - Ting Tang Tina who is fronted by none other than Vaden Lewis' own daughter, whose voice will surely blow you away. We will be touring with Local H this year so we are pleased to they will be joining us. If you missed them at Dia 8 or haven't seen them before, they will surely melt your face. Each and every one of these bands put on a great show. Can't wait to see you all there!" -- The Toadies
"Willie's picnic for a new generation" is how the Austin Chronicle described the Toadies annual rock bash. Toadies guitarist Clark Vogeler says, "Dia keeps getting better every year. Last year's festival was without a doubt the best weekend of the year. It always feels like a big family reunion with a great soundtrack." Vogeler says "I dig the eclectic nature of our lineups. Each of us in the band picks music that we want to share with our fans, and each other."
Dia De Los Toadies has taken place at several venues around the state including Possum Kingdom Lake, where the festival was first held Labor Day weekend of 2008. The show was an incredible success, selling out in advance. Now in its 10th year, the fest will return to Possum Kingdom!
LINE-UP FEATURING:
Local H
Riverboat Gamblers
The O's
Oil Boom
Quiet Company
Baboon
Ting Tang Tina
TICKETING:
$46 GENERAL ADMISSION includes entry into the festival featuring a headlining set by the Toadies.
$150 VIP includes a meet & greet with the Toadies, VIP parking at the venue and access to the air conditioned, full service Possum Hollow Bar & Grill with a patio view of both stages.
LOCATION:
POSSUM HOLLOW
4801 Possum Hollow Rd.
Graham, TX 76450
FEST INFO:
3:00 PM GATES
3:30 PM SHOWTIME
11:00 PM FEST CLOSE
This event is all ages.
Food and beverages are available on-site for purchase.
Please note that cash parking will be available nearby and a shuttle to the event site will be included in parking price. ONLY VIP tickets includes convenient parking on-site at Possum Hollow.
*Buy your tickets in advance. This is an exclusive limited capacity event. *
For more information please visit www.diadelostoadies.com
All Ages