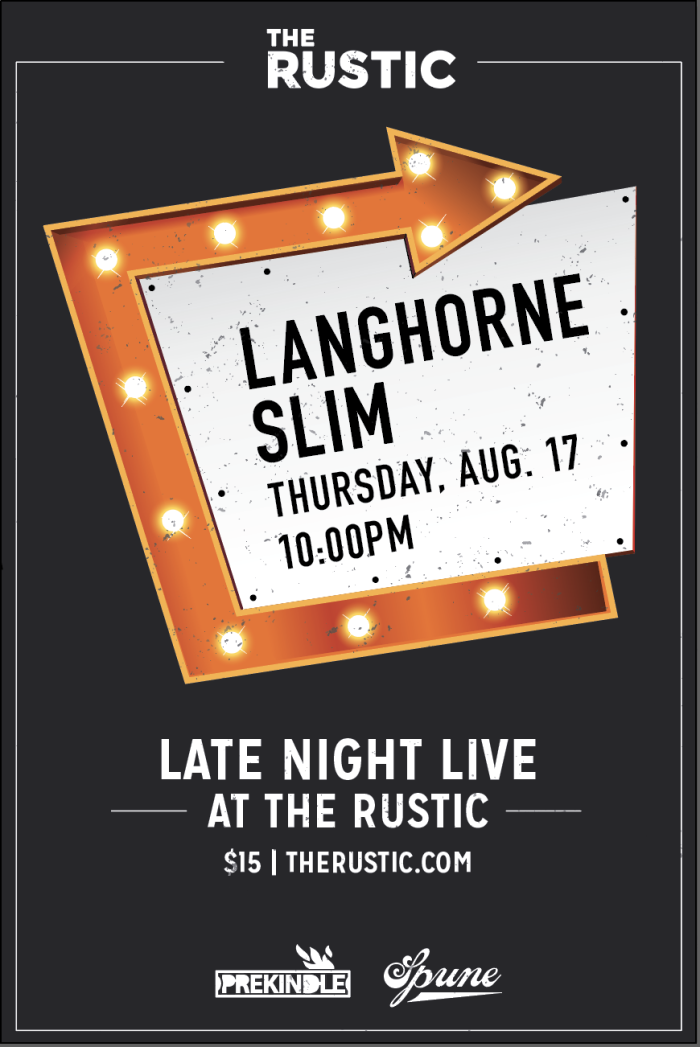 Join us for our new series Late Night Live at The Rustic!
"Sometimes truth can't be explained. But it can be felt running wild through a song." That is how Paradigm describes their artist, Langhorne Slim, our next feature for The Rustic's Late Night Live. For the second time ever, The Rustic will transform into a late night listening lounge. Thursday, August 17th, attendees will get to sip Late Night Live hand crafted featured cocktails in an intimate concert environment. Vintage furniture, rugs and pillows will be accented with candles around the space to create a unique experience that's like no other at The Rustic.
This series was started to shine a light on artists that deserve our undivided attention and for fans looking to experience a more refined concert experience. Dim the lights, set the stage, and let the music speak for itself. That's what it's all about.
Buy your ticket now
as there are limited available. Please note, that this show is a combination of standing room and lounge seating. The lounge seating will be occupied on a first-come, first-served basis! We suggest arriving early.
The kitchen will be closed as this event is ALL about the music, but The Rustic's full bar will be open to set the tone!
About Langehorne Slim
Sometimes, truth can't be explained. But it can be felt, running wild through a song. "I don't want to tame myself. I want to be wild," says Langhorne Slim. "If I can continue to refine the wildness but never suffocate or tame it, then I'm on the right path. Because it is a path. I feel it."

The Pennsylvania-born, self-taught guitarist moved to Brooklyn at 18, and began feeling out his place in a burgeoning punk-folk scene. Over the years, he wound his way to the West Coast and to the South, and now finds himself celebrated from Newport to Portland as one of today's most original singers and songwriters.

Numerous press outlets have celebrated Langhorne Slim. Rolling Stone praised 2012's The Way We Move as "damn near perfect," while The Guardian proclaimed the band as "one of the greatest live acts." Additionally, Entertainment Weekly called Langhorne Slim "your next obsession," and The New Yorker described him as having "Leadbelly's gift for storytelling and Dylan's ability to captivate crowds."

His most recent release, The Spirit Moves (Dualtone, 2015), was released to high critical praise, including The Boston Globe: "Slim is more reflective now, his banjo-driven rock-folk-pop hybrid increased in artistry and depth." The Spirit Moves is also the first album of his career written and recorded entirely sober, a fact often mentioned in interviews and reviews and thematically evident upon first listen. Easily his most introspective album, it is his second with the rock-solid members of The Law.

Slim has appeared on The Late Show with David Letterman, Conan O'Brien, CBS Saturday Morning, and more. He has played major festivals like Newport Folk Festival, Lollapalooza, Austin City Limits, and Bonnaroo, and has toured with The Lumineers, The Devil Makes Three, and the Avett Brothers.

When asked whether or not he fits in to any narrow-cast definition of this country's music, Slim replies with a perfect, laconic joke: "I think we fit in most places that would take us."
All Ages